Assistant Professor
Behavioral and Brain Sciences Program
Social Psychology
Dr. Skinner-Dorkenoo has been an assistant professor at the University of Georgia since the fall of 2019. Her research examines how biases are established, maintained, and facilitated through subtle messages present in everyday life. She is particularly interested in how situational cues in our social environments shape our perceptions, attitudes, and biases against other individuals and groups. These cues range from nonverbal signals demonstrated in interpersonal interactions (e.g., warmth and friendliness) to explicit messages that may appear to be positive but are actually ironically negative (heightening intergroup bias). She utilizes correlational and experimental approaches and employs multiple methods (including physiological, behavioral, and self-report measures) to identify the basic cognitive, affective, and perceptual processes that lead to the establishment, maintenance, and activation of attitudes and biases. 
Dr. Skinner-Dorkenoo will be leading a study abroad trip to Togo (West Africa) on the Psychology of Attitudes, Biases, and Culture in Maymester 2022.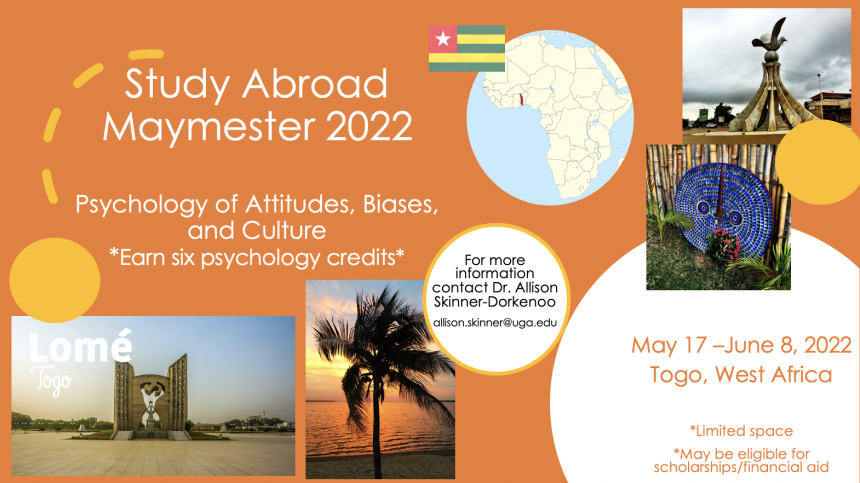 The University of Georgia is located on the ancestral lands of the ᏣᎳᎫᏪᏘᏱ Tsalaguwetiyi (Cherokee, East), S'atsoyaha (Yuchi), and Mvskoke (Muscogee / Creek) people. Click here to learn more.
Education

Education:

2015 Ph.D., University of Nebraska-Lincoln, Experimental Psychology (emphasis Social Cognitive Neuroscience), Minor: Quantitative Psychology    

2009 M.A., California State University, Chico, Psychological Science    

2005 B.A., California State University, Chico, Psychology
Other Information

Of note:

Postdoctoral Scholar, Northwestern University (emphasis Social Psychology and Psychophysiology), June 2017 – July 2019    

Postdoctoral Scholar, University of Washington Institute of Learning and Brain Sciences (emphasis Social and Developmental Psychology), May 2015 – May 2017