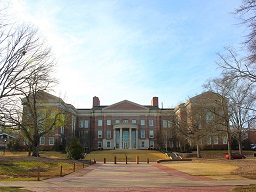 Research:
In 13 years, there have been 21 Coverdell Scholars, each empowered to focus on intensive neuroimaging training and to conduct research of their own design. Their research has been published in over 85 manuscripts in prestigious professional journals such as Biological Psychiatry, Brain Injury, Frontiers in Human Neuroscience, Journal of Neuroscience, Neurobiology of Aging, Schizophrenia Research, Social Neuroscience.
Publications by Franklin Fellows
Careers:
Among the past-awardees,
Dr. Max Owens was awarded a NIDA T32 postdoctoral fellowship at the University of Vermont focused on big data, multimodal approaches to addiction neuroscience.
Dr. Anastia Bobilev was awarded a T32 NRSA NIH Training Grant for her Postdoctoral Research at UTSouthwestern Medical Center in Dallas, TX in the Department of Psychiatry under the direction of Dr. Carol Tamminga. She also received Early Career Investigator Travel Fellowship Award from the Society of Biological Psychiatry.
Dr. Jordan Pierce is a Postdoctoral Researcher in the Laboratory of Neurology and Imaging of Cognition under the direction of Dr. Patrik Vuilleumier at the University of Geneva.
Dr. Jordan Hamm is a Postdoctoral Research Scientist in Department of Biological Sciences under the dircetion of Rafael Yuste at Columbia University. He recieved a grant from the Interdisciplinary Research Initiatives Seed (IRIS) funding program, Columbia University for $100,000 and a National Institute for Mental Health funded F32 grant for $155000.
Dr. Doug Terry is a Clinical and Research Fellow in Sports Neuropsychology and Mild Traumatic Brain Injury in the departments of Physical Medicine & Rehabilitation and Psychiatry at Harvard Medical School.
Dr. Lauren Ethridge has been awarded a numerous grants for her work on Fragile X syndrome at University of Oklahoma.  
Dr. Megan Boyd completed a program at MCG to provide clinical care as a physician assistant with a planned specialization in neurology. Five other fellows completed their Ph.D. degrees at UGA. Dr. Kara Dyckman completed a postdoctoral position at Harvard University and recently accepted a position as a full time instructor in Psychology at UGA. The remaining awardees are members of prestigious laboratories across the nation as post-doctoral scholars engaged in studies of neuroimaging; Dr. Nate Thom (Naval Health Research Center), Dr. Lisa Krusemark (University of Wisconsin, Madison), Dr. Jason Langley (Georgia Tech and Emory University) and Dr. Justin Knight (University of California at Davis).
Conference Travel:
In total, 57 students have been funded to present their data at conferences or attend workshops directly related to their work in neuroimaging. This high rate of productivity and the resulting dissemination of research findings elevate the status of the students, their associated faculty, the BIRC, and ultimately, that of UGA itself.
Distinguished lecturers:
Over 13 years 38 distinguished speakers were recruited from our sister institutions in Georgia (Emory, MGH, Georgia State, Georgia Tech), as well as from across the country (Duke, Indiana, California, Illinois, New Mexico and Texas), and Europe (University of Konstanz, Germany and University of Cambridge, England). One previous invited lecturer (Dr. Lawrence Sweet) was recruited from Brown University Medical School to UGA to accept the Sperduto Professorship in Clinical Psychology.