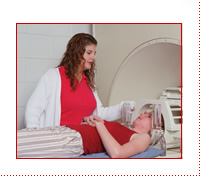 The completion of the Paul D. Coverdell Building for Biomedical and Health Sciences was celebrated with a dedication ceremony April 7, 2006. Click here for pictures of the dedication ceremony: 1, 2, 3.

Installation of equipment in the 9000 square foot Bio-Imaging Research Center (BIRC) was completed in the fall of 2006. Click here to see pictures of construction of the BIRC: 1, 2.
The Center houses the EEG, MEG, and MRI/fMRI and was designed with adequate space for small group training and hosting visiting scholars.